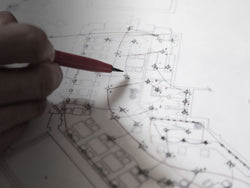 Lighting Design & Supply
INTERIOR LIGHTING DESIGN
All too often overlooked, Interior Lighting Design is intrinsic to setting the mood and making your home feel comfortable. Get it wrong and a scheme never feels complete. Getting it right requires careful consideration of lux values, beam spreads, density and height, not simply the style of fittings.
Every home is unique and the Interior Lighting Design must be carefully tailored to create the best possible ambient effect. Layers and pockets of light must be subtly introduced in all the right places to suit exactly how you, your family and guests will use your home.
We offer a wide range of twentieth century fittings, from Georgian lanterns, French chandeliers, picture lights, table lamps and ceiling spots to contemporary Italian classics. Our experienced Lighting Designers ensure that you arrive at a highly individual, stylish lighting scheme that works for the way you live.