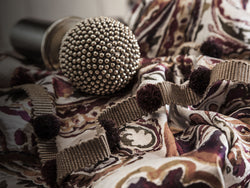 Designer Fabric Collections & Specialist Trims
Our Interior Design Fabric Specialists in Harrogate have built long-established relationships with the finest fabric houses and specialist trim makers from all around the world. We can source rare and archival reproduction fabrics and trims when the project demands to complement the already enviable collection of Interior Design Fabrics in our extensive design library - an exemplary resource the like of which you will rarely find outside of London. We are also able to supply fabric direct to the trade.
Original trims and bespoke tie-backs may seem like minor details, but implemented thoughtfully can be instrumental in transforming a good interior design into a great one. The devil is in the detail and it is the quality of manufacture, material and design that often distinguishes less expensive fabrics from their superior counterparts.
We believe in using fine quality, well-designed fabrics that are not readily available on the high street; Interior Design Fabrics that are perfectly suited to the purpose intended and that will greatly enhance your design scheme. Of course we will always individually tailor our recommendations to ensure that you realise your vision without exceeding your budget.